EasyDCIM: What Is the Fuss About?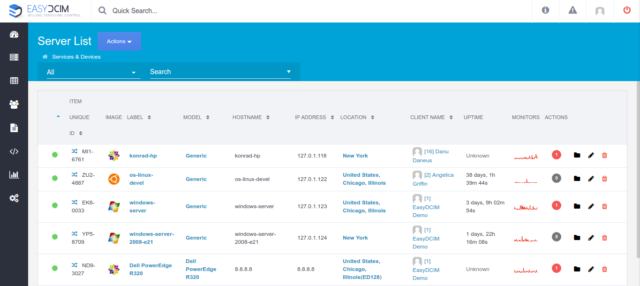 While researching top datacenter management software, I came across EasyDCIM, a piece of software that aims to be the most easy to use Data Center Infrastructure Management, and I have to say out of all the tools I looked at, EasyDCIM seems to be the most intuitive and updated.
Being quite a veteran in the webhosting industry, I was curious how I had managed to miss out on such a beautifully created piece of software. I reached out to Konrad Keck, EasyDCIM's CEO to get his thoughts on this. When asked on why he decide to create EasyDCIM, here is what he had to say:
While there are lots of tools out there that can get the job done, most of them have an outdated UI and rarely make user feedback as part of their development roadmap. Our aim with EasyDCIM was to create a system that offers an extremely friendly user experience while focusing on developing features that our customers are asking for first.
The team at EasyDCIM were very helpful and kind enough to give me access to a demo account. Here is an overview of the system:
For technical people out there, the system is built using a classic LAMP stack (Linux, Apache, MySQL, PHP) and uses a very clean Bootstrap theme in order to give EasyDCIM its awesome user interface.
I have to say that EasyDCIM is fulfilling this promise on a daily basis. Their system is quite extensible and adaptable, and they really take pride of their work. I was able to hear this in Konrad's voice. But as they say, there are always two sides of a story. So I decided to talk to EasyDCIM clients who are actively using the software.
What Did EasyDCIM Clients Say?
Brady Huddleston, Centex Hosting's CEO, runs a company which specializes in offering reliable, cost effective hosting solutions while maintaining high quality customer support. Here is what Brady had to say:
EasyDCIM has worked with us to get everything we wanted so far. There are a few things they are working on that we have asked for. They are always willing to keep developing the product to make it better.

The only issue we're facing is that their support is not 24/7, so you have to wait sometimes until the next day to get a response. But when they do respond the issue is fixed the first time.
Another EasyDCIM client is Chris Danks, Director at Cyber Host Pro. This is a UK-based hosting company that has been operating for more than 10 years, and pride itself on its ability to offer a range of web hosting products while keeping their average response time to support tickets under 15 minutes. Here is what Chris had to say about EasyDCIM:
We've used EasyDCIM for almost 2 years it works perfectly. It also now has good WHMCS integration, bandwidth billing & server provisioning automation which has helped us further automate our business. We used another system for several years before hand which was fine but EasyDCIM has all of the features we ask for at a pretty good price.
So Who Is EasyDCIM For? What are the alternatives?
EasyDCIM is best suited for datacenters and hosting companies who need to manage a large number of servers, and need this done at a reasonable budget. WHMCS users will be happy to know there is a WHMCS EasyDCIM integration for that as well to automatically provision servers for clients. Other solutions include Ubersmith, DCI Manager and a few others.
Got questions? Comments? Feedback? Get In Touch.