I came across a facebook ad today, which served as a great example on how harmful an incorrect advertising campaign could be. Here is a screenshot of the advertisement, and the full ad text: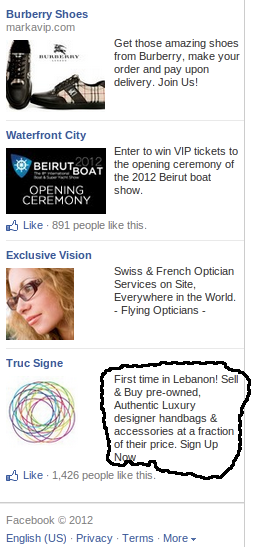 "First time in Lebanon! Sell & Buy pre-owned, Authentic Luxury designer handbags & accessories at a fraction of their price. Sign Up Now"
The advertisement is implying that you can sell and buy premium handbags at a fraction of their price. While this is great for buyers, it will definitely alienate sellers. No one wants to sell premium handbags such as Louis Vuitton, Chanel and Hermes for the fraction of their price, obviously!
If the advertisement has been intended for buyers only, it would have been great. However,  if you wanted to sell on that website, they're asking you to sell Authentic Luxury designer handbags at the fraction of the price, which is really insane.
I hope these people aren't running this advertisement somewhere else such as newspapers and magazines. I think this advertisement will do them more harm than benefit. People who buy luxury items are mainly higher-end customers, who are able to read and write proper English. Will this ad appeal to the right target? I highly doubt.
Please don't treat your brand image lightly. If you feel that you don't have the skills to write proper English, or design a proper ad, you might want to hire an  online marketing expert.