Your odesk profile picture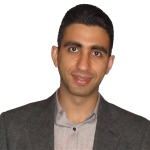 The first and most important impression a user gets when visiting your profile is your picture. I've personally spent more than $10,000 on odesk, and every time I wanted to hire someone, I would tell myself the following: "I need to find an expert that I can trust on a professional level". Yes, the keywords here are expertise, trust, and professionalism.
So how do you show your expertise, trust and professionalism using an image? Let me explain below:
 Expertise means confidence: If you're looking confident in your picture, the employer automatically tells himself: "This guy is confident, then he certainly must be an expert".  If you aren't confident about your own skills, why would employers want to pay you for those skills? So when taking your picture, look at the camera and tell yourself: "I'm confident about my own skills, and I know that I can exceed your expectations". It's all about your attitude.
Trust translates into a sincere look and a little smile: Look straight into the camera, and smile a little. At the same time, promise yourself that you'll be sincere and honest with your clients whatever the circumstances are, and that they can trust you. With that attitude, take your picture. That should give your employer the trust they're looking for.
Professionalism means a good dress code: Yes my friends, what you are wearing counts! Even if the employer is never going to meet you in a million years, they wouldn't be inclined to hire someone who posts a picture in their pajamas. I highly suggest you take a picture where you're dressed in a suit for men, and an office dress for women. Although you're only showing your face, a part of your clothes will still appear, so make sure it's what you would wear when meeting a very important client in person.