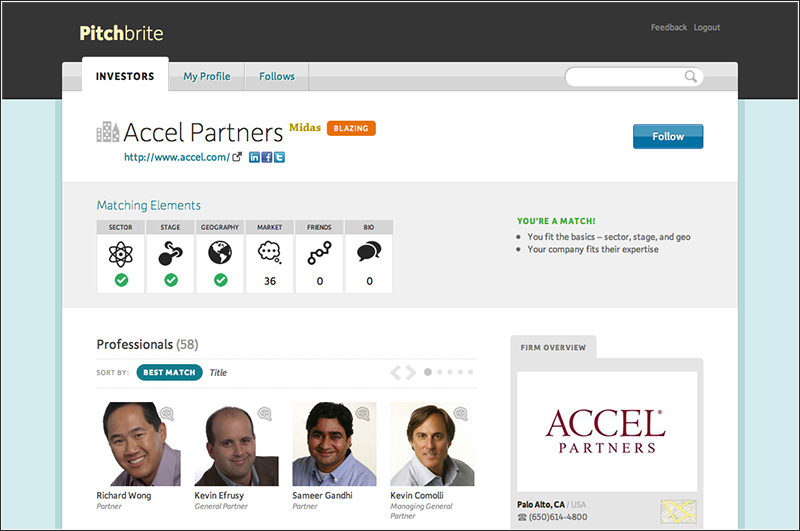 Impact Made
Pitchbrite was a very unique project we worked on and the company had so much potential. However, this great and unique idea wasn't without obstacles. Work had started for more than a year with no significant results, and PitchBrite risked losing trust with its current investors , as well as potential venture capitalists who were interested funding the project. We were contacted by Matt, the founder in order to save the situation.
Client: Pitchbrite
Industry: Financial Services
Location: Boston, MA
Size: 8 people
Stage: Seed
Result: Successful Exit
Company Bio
Before being acquired by a larger company, Pitchbrite offered a service that connected entrepreneurs with venture capitalists via common life factors (same school, industry, location, common friends…) and a unique social network algorithm. After entering information about yourself and your startup, it matched you with relevant VC firms and professionals.
"The team at Staggering ROI strongly contributed to our success. They went out of their way to find the best solution to our long-standing problems. I'm grateful to have worked with them."
Matt Winn

Founder, Pitchbrite
The Challenge
The biggest challenge we faced was to deliver a solution that handles extreme growth while at the same time depending on  3rd party APIs that can be very unreliable. Another challenge we faced was the need to work with the LinkedIn API which had severe technical limitations, so we had to come up with unique coding methods rarely faced in other projects, and fast!
Once this was out of the way, we focus on massively growing the site by collecting data from various sources in order to feed our database with many information that not much platforms had at the time, resulting in organic SEO rankings and social media buzz. That was how we grew that platform.
The Approach
We were contacted by Matt Winn, the founder of PitchBrite, who worked in the VC world for several years prior to founding the company. Matt needed to quickly get results, prior to pitching to interested VC firms on an already set date.
We quickly realized the bottleneck was operations. The development team which was working on this system had been struggling for three months, and investors were starting to get frustrated. Matt was on the verge of losing his company.
For the next four months, we closely worked with Matt and his development team in order to fix the problems and regain his investor trust. Most of the code was poorly written, so we had to restructure the application, and we had to do it fast. At the pace the project was going, it would have take more than a year to finish. We got it done in months by following an agile development methodology, which allowed us to push updates to the application really fast, and incorporate daily changes requested by our stakeholders.
When this was out of the way, we programmatically created highly relevant SEO pages based on all the data that we had, and this resulted in quite some organic traffic and we were able to achieve the required growth within the specified timeframe. 
The Results
Matt was able to demonstrate the project to interested venture capitalists on time, and was able to preserve his investors' trust. The project continued growing fast, and got acquired by a bigger company later on. PitchBrite was a challenging and unique project we greatly enjoyed working on.